The 4-1-1 on Biohazard Cleanups
4/29/2015 (Permalink)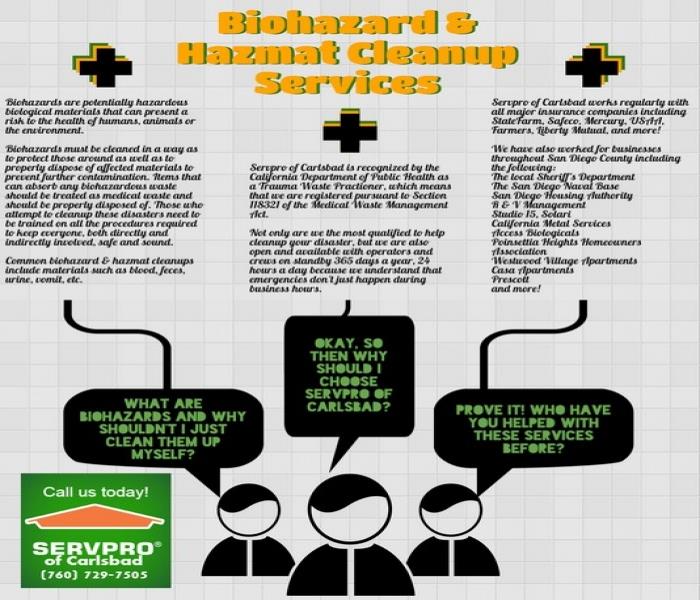 Check out our infographic that answers the most commonly asked questions about our bio-hazard cleanup services. We are here to make any sized disaster "like it never even happened"!"


Biohazard's are potentially hazardous biological materials that can present a risk to the health of humans, animals for the environment. Biohazard must be cleaned in a way as to protect those around as well as to properly dispose of affected materials to prevent further contamination. Items that can absorb any Biohazardous waste should be treated as medical waste and should be properly disposed of. Those who attempt to clean up these disasters need to be trained on all the procedures required to keep everyone both directly and indirectly safe and sound. Common biohazard and hazardous cleanup's include materials such as blood, feces, urine, vomit, etc.
SERVPRO Carlsbad is recognized by the California Department of Public health as a trauma waste practitioner, Which means that we are registered pursuant to section 118321 of the medical waste management act. Not only are we the most qualified to help clean up your disaster, but we are also open and available with operators and cruise on standby 365 days a year, 24 hours a day because we understand that emergencies don't just happen during business hours. SERVPRO Carlsbad works regularly would all major insurance companies including State Farm, Safeco, Mercury, US AAA, liberty mutual, and much more! We have also worked with businesses throughout San Diego County including the following: The local sheriffs department, the San Diego Naval base, San Diego housing authority, studio 15, Safari, California metal services, excess biologicals, Poinsettia Heights homeowners association, Westwood Village Apartments, cost apartments, Prescott and much more!