SERVPRO of Carlsbad gains some in-house restoration
2/27/2015 (Permalink)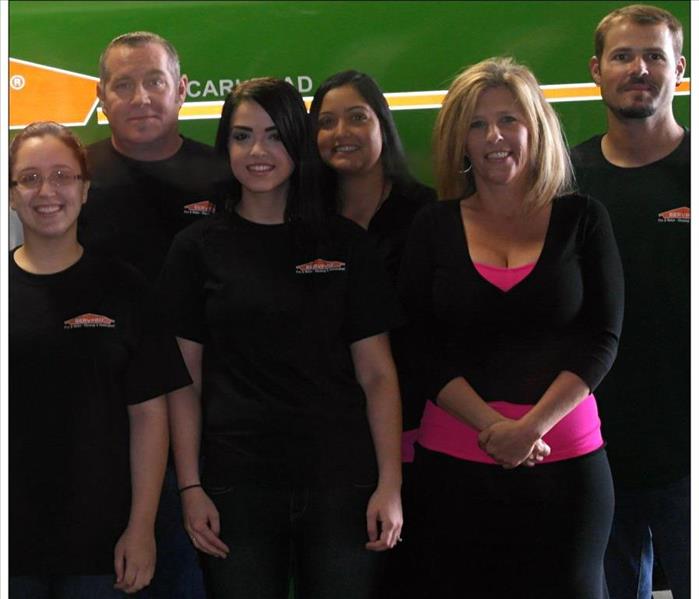 (left to right) Contents Crew members Sarita, Jeff, Miriam, Christina, Tracy and Mark (not all of crew is pictured).
New and improved, SERVPRO of Carlsbad unveiled their new Contents Crew just in time for 2015.
With over 15 years of experience in the contents division, Lead Manager Tracy Brandenberger brings new light and even more services to the already full-service restoration company. Tracy believes in hands-on cross training to provide her crew with all the necessary skills required to make each disaster "like it never even happened." "I really love helping families recover from disasters. It is so rewarding" Tracy said when asked what she likes most about her job.
Also new to the crew, Manager Christina Ocampo also brings vast experience to the table with an uncanny eye for detail, which is crucial in the content restoration industry. "I love that every day we get to do something different. It is never the same two days in a row," Christina said when asked about her favorite part of her job.
SERVPRO of Carlsbad is proud to now offer the following services, including, but never limited to: pack outs, pack ins, pack backs, onsite storage, offsite storage, content cleaning, total loss inventory, fire cleaning, smoke cleaning, mold damage cleaning, water damage cleaning, content restoration, content preservation, and more!
For more information about the variety of services that SERVPRO of Carlsbad offers, visit our website or blog and don't forget to like us on Facebook and Twitter.